A Ukrainian Boeing 737 carrying more than 170 passengers and crew crashed shortly after takeoff from Tehran early Wednesday, killing all on board.
READ FAA bans flying over Iraq, Iran and Gulf waters.
Website Flightradar24 identified the plane as Ukraine International Airlines Flight 752 departing Tehran's Imam Khomeini International Airport for Kiev around 02:42 Coordinated Universal Time.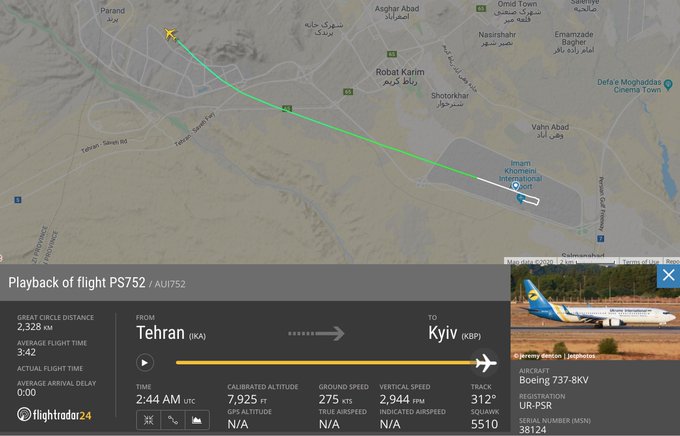 Media reports said only that the plane crashed due to "technical problems" while the Ukraine embassy suggested it could have been due to engine failure.
The embassy discounted the possibility of a terrorist or rocket attack but did not explain why and later replaced its message with a travel warning, according to well-connected safety website The Aviation Herald.
The plane crashed about five minutes after it took off at 6:10 am local time and did not transmit an emergency call.
The airline confirmed that all those on board – believed to 167 passengers and nine crew – were killed.
A statement posted on its website said it would post passenger lists once they were confirmed and said it was suspending flights to Tehran indefinitely.
It revealed the aircraft was delivered from Boeing in 2016 and underwent its last scheduled maintenance this month.
A thorough investigation would be conducted with the involvement of the aviation authorities of Ukraine, Iran, representatives of Boeing and the airline.
"The airline will inform you of the investigation and the causes of the tragic event as soon as they are identified," it said.
It said a video posted by Iran's ISNA news agency showed a faint glow of light flickering shortly before an explosion. It has yet to be verified that the video is of the crash.
نخستین ویدئو از سقوط هواپیمای اوکراینی اطراف شهریار pic.twitter.com/M3bZiLLryQ

— خبرگزاری ایسنا (@isna_farsi) January 8, 2020
Photos posted by ISNA show emergency workers inspecting charred wreckage.
An investigation team was at the site of the crash in southwestern outskirts of Tehran, AP quoted civil aviation spokesman Reza Jafarzadeh as saying.
"After taking off from Imam Khomeini international airport it crashed between Parand and Shahriar," Jafarzadeh said.
The flight crew of the Ukraine International Airlines flight PS752 comprised 3 pilots: Captain Volodymyr Gaponenko (11,600 hours on Boeing 737); Check Captain Oleksiy Naumkin (12,000 hours on 737) and First Officer Serhii Khomenko (7,600 hours).
Ukraine International was founded in 1992 and had no accidents and incidents listed on Aviation Safety Network's database before the current accident.
It had passed the IATA Operational Safety Audit and was not due for renewal until June, 2021.
The airline's website said its fleet consisted of 42 "modern airliners" including three Boeing 777-200ERs, four 767-300ERs and 28 737NGs.
Ukranian president Volodymyr Zelensky said in a Facebook post that his embassy in Iran was working to clarify the circumstances of the crash and get a list of passengers.